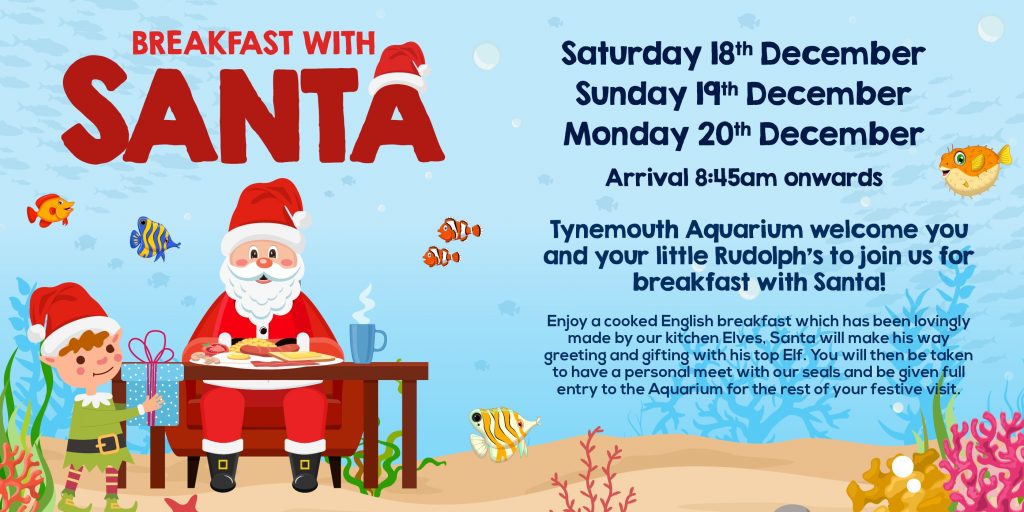 Tynemouth Aquarium welcome you and your little Rudolph's to join us for breakfast with Santa from 18th December to the 20th December 2021.
Priced at £20 for Adults, £22 for children and £8 for under 3's.
Enjoy a freshly cooked breakfast which has been lovingly made by our kitchen Elves, Santa will make his way greeting and gifting with his top Elf. You will then be taken to meet our resident seals and be given full entry to the Aquarium for the rest of your festive visit.
What to expect:
Santa's top Elf will meet you at our Bay and Laurel Restaurant where you will be seated then the food festivities will begin. You will be served Mrs Clauses favourite breakfast of course a full English! Little Rudolph's will be given a letter to Santa to fill out so the big man can add it to his true believers list.
Once you've finished your breakfast Santa and his trustee elf will make their grand arrival greeting and giving out gifts to all the good boys and girls. You will then be whisked off to have a personal meet with our seals with special Sealson' greeting!
Once Santa has signed off for the day you will be given full admission to enjoy the rest of the Aquarium until closing time!
Please Call: 0191 2581031 to book.
HOHOHO and a Merry Fishmas from us all here at Tynemouth Aquarium.