Our Seal Cove is the jewel in our crown here at Tynemouth Aquarium and one of the main reasons people love to come back again and again. Whether they are on land showing off their skills with our aquarists or swimming around playing with their friends, you will be able to get the perfect view from any angle. Seal Cove contains more than 800,000 litres of seawater and features man-made islands, underwater caves, diving pools and a cascading waterfall so there are plenty of areas to keep these energetic pinnipeds entertained.
Our Seal Show is the highlight for many visitors! Being performed twice daily (12pm and 3pm) you shouldn't miss it as it is the perfect time to watch our seals strut their stuff and learn more about this magnificent animal. Here at Seal Cove we are home to two female (Calypso and Loffe) and two male seals (Marvolo and Sofus). All of our seals have their own personalities and have a special relationship with our zoo team and our regular visitors. Calypso is also the daughter of Marvolo and was in fact born right here at Tynemouth Aquarium. Calypso's two brothers Benji and Cody were also born at Tynemouth and have since moved to Deep Sea World in Scotland.
Current Water Temp
<18°C
/ >64.4°F
Water Type
Salt Water
Climate / Biome
Temperate
Where are we?
British Isles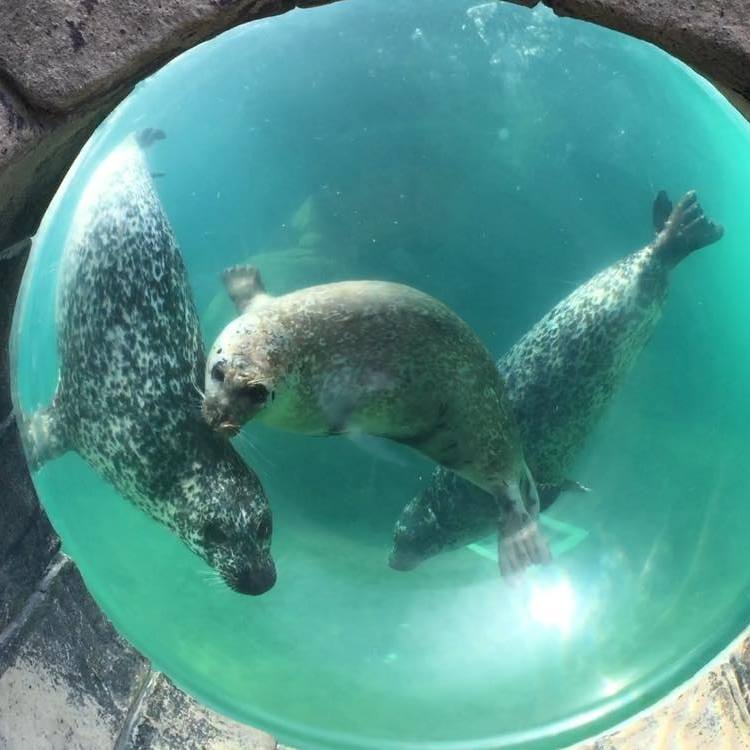 Unlike sea lions, seals are significantly more mobile in water than on land which is one of the reasons we have multiple windows into the tank to allow our visitors to see how graceful they are in the water in comparison to how they flop around on the surface. These windows into the tank can create some of the best photo opportunities with our seals who are not afraid to photobomb in strange and creative ways. We have a group of divers who regularly clean seal cove so our seals have a clean pool and our visitors can get some stunning views. Our Seals love having company from the divers to our visitor they are always happy to see a smiling face.