Here at Tynemouth Aquarium our Seal Cove exhibit lets you get up close with our very own harbour seals, each of which have their own special personalities. With four seals to get to know, and twice daily shows, it's no wonder our visitors come back time and time again!
However, did you know that we also care for a wider number of seals at our seal hospital? It's easier than you think for seals to become ill or injured which is where our seal hospital comes. So, let's find out a little more behind the scenes!
Rescuing seals in Tynemouth
The seal hospital based here at Tynemouth Aquarium is a volunteer-led project, providing care and treatment in order to rehabilitate the seals and release them back into the wild. It opened in 2017, and since then we have helped well over 100 seals. While the hospital is based in a part of the aquarium, our ill or injured seals are largely kept away from visitors to reduce any stress during their rehab.
So, how does it all work? The seal hospital will typically receive seals to treat from calls made to the RSPCA and British Divers Marine Life Rescue (BDMLR). It's important that members of the public don't approach what they think might be a sick or hurt seal, but report it instead and let the professionals do their job! Seals typically spend two-thirds of their time on land, and it's only a concern if they've been there for more than 12 hours, or have signs of injuries.
Seals are very territorial, powerful creatures and so you should stay clear and observe from a distance. What's more, if people get too close to seal pups, it can result in the mother abandoning them.
The seals that we treat here at the seal hospital typically come in from the local area and across Northumberland and Yorkshire.
Where do the seals stay in the hospital?
Our seal hospital isn't fully open to the public, so you might be wondering where we keep the seals when we're nursing them back to health. We have 4 pens that we use to treat the seals. Some can be seen by the public, but in some cases we treat the seals in private rooms so they're not in a stressful environment. We also don't allow visitors to come inside the hospital, as it can bring risk and extra stress, particularly to the seal pups!
Looking after the seals
There are so many reasons why a seal may become sick or injured and in need of medical help. This can include being injured by dogs or other seals, broken bones and infections. Plastic pollution is becoming an increasing problem that threatens our seals – in one case, we had a seal suffering from a deep cut to its neck, due to being caught in a fishing net.
Human interaction can also play a devastating role in a seal's life. If humans get to close to seal pups, it's highly likely they will be abandoned by the mother at a time when they're too young to survive on their own.
At Tynemouth seal hospital we provide the necessary treatment and rest needed for these seals to return to full health. We can also use donated wetsuits to create surrogate mothers, in a bid to provide some extra comfort to the younger seals as they are treated.
Returning the seals to the wild
Once our injured or sick seals are back to themselves, we often let the rescued seals swim together and begin to socialise for the last couple of weeks before we release them into the wild. This is important so they can learn to be around other seals again, as sometimes we treat our unwell seals for months at a time.
We also ensure they have minimal contact with humans, and don't become reliant on humans for food. This is so, when they are released back into their natural habitat they can still fend for themselves!
The seals we treat here at Tynemouth seal hospital are tagged, so if they are ever rescued again and need more help, their medical records can be traced.
Our seal success stories
We've helped so many seals over the years, so here's just little snapshot of some of their stories…
Tarquin came to us in July 2020 at a very skinny 10.4kg. He had a wound over his left eye and had also lot some of the skin and tissue from his lip due to mouth-rot. The team at the seal hospital were able to give him antibiotics, pain relief, anti-inflammatories and even eye drops. He was released 3 months later, weighing a much healthier 26kg and has since been spotted frequently in a Yorkshire river!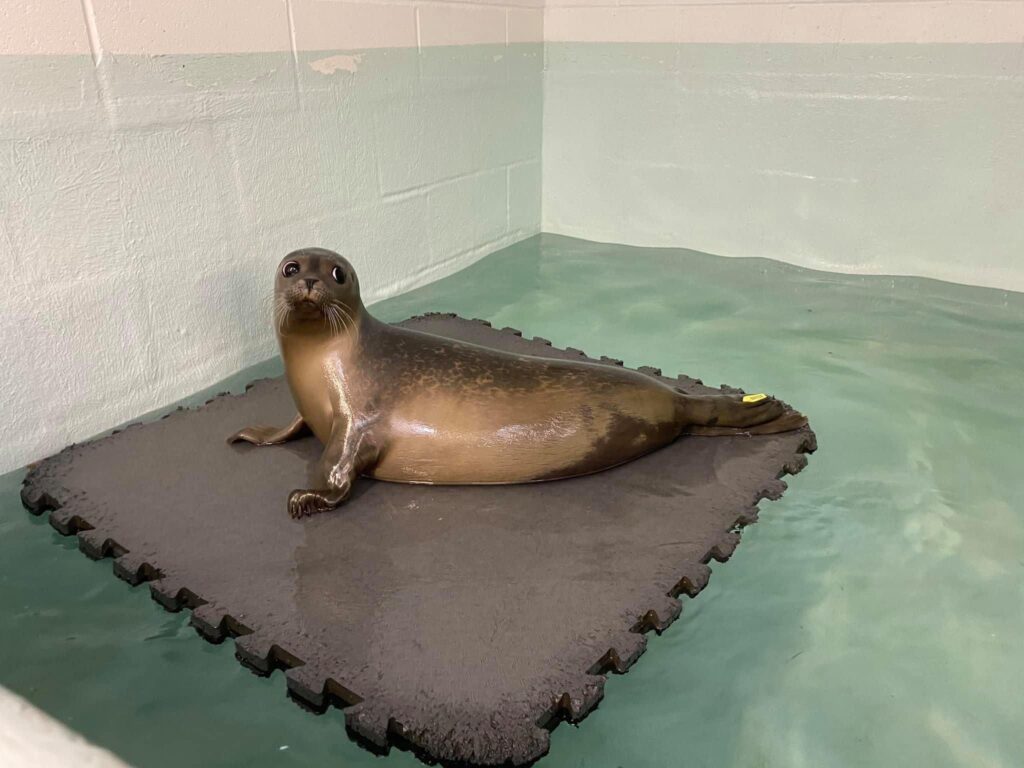 In 2018, a rescue pup was brought in from Whitley Bay after being caught in fishing gear, resulting in multiple wounds. She looked to be in a dire situation, but was on the mend with treatment to her wounds. Shortly afterwards, the team noticed she had damage to her eye, caused by the fishing hooks she was tangled in. It meant an operation to remove her eye, which a local vet carried out, but the team were still incredibly confident she could be returned to the wild!
Here at the Tynemouth Aquarium seal hospital we've even treated a pup that came all the way from Holland! Gabrielle was brought in with a tag on her flipper, which uncovered that she was from a rescue centre in Holland who had previously treated and released her. She'd made the long swim across the North Sea and was understandably exhausted, and also had lost the sight in one of her eyes. The team here treated her for about a month until she was well enough again to go back into the wild.
This is just a little insight into how hard the volunteers at the Tynemouth Aquarium seal hospital work, providing a valuable service in getting local seals back to full health. If you'd like to see harbour seals up close in a safe environment, why not come and see our Seal Cove exhibit and catch the seal show, on every day at 12pm and 3pm!